SPONSORED BY
Tagger is a powerful, intuitive, end-to-end influencer marketing platform and creator listening engine revolutionizing the industry. With direct relationships with all major social media platforms, as well as exclusive access to billions of valuable data points, Tagger provides users with invaluable discovery capabilities, research and analytics, and customizable reports. The platform allows brands, agencies, and media companies to plan campaigns, measure popularity, discover and activate influencers, and report what matters most. 2-Time WINNER of "Best Influencer Marketing Platform" at the 2021 & 2019 Influencer Marketing Awards, WINNER of "Best Influencer Marketing Platform" at the 2020 Digiday Technology Awards, named "Best Influencer Marketing Company" at the MarTech Breakthrough Awards in both 2019 & 2020, Tagger's SaaS solution provides an up-leveled and streamlined influencer marketing experience, empowering users to maximize their ROI with ease.
Judges are seeking a creative, best-in-class use of of Youtube for a brand or campaign.
Entry Guidance: If not included in your entry, please upload a video or link to the campaign in your supporting evidence.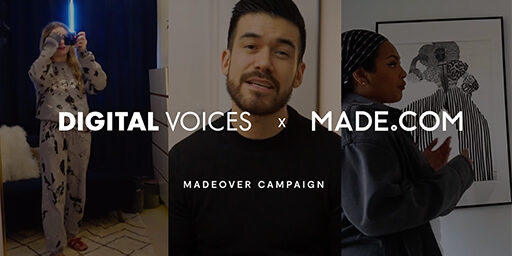 Digital Voices X MADE.COM: MADEover