Best Health and Beauty Campaign
SPONSORED BY

Tribe Dynamics, a CreatorIQ Company, is the most comprehensive influencer marketing analytics platform. We help beauty, fashion, and lifestyle brands drive and measure high-impact digital earned media at scale. In September 2021, Tribe Dynamics was acquired by CreatorIQ, an all-in-one solution to unlock the potential of the Creator Economy and grow, manage, scale, and measure your influencer marketing program. Together, we offer the leading influencer marketing software for iconic brands and businesses. Find out more at https://www.creatoriq.com/   
https://www.tribedynamics.com/trial-landing?utm_source=google&utm_medium=cpc&utm_campaign=1785061385&utm_content=73010753241&utm_term=tribe%20dynamics&hsa_net=adwords&hsa_grp=73010753241&hsa_mt=e&hsa_tgt=kwd-408746258783&hsa_kw=tribe%20dynamics&hsa_src=g&hsa_acc=9394608292&hsa_cam=1785061385&hsa_ver=3&hsa_ad=344683286148&gclid=CjwKCAjwsJ6TBhAIEiwAfl4TWGaOEo-pTJmEK41LFDhdVun4nkT_iNMulq5W7HOqDkdis_R6s_FPXhoC_DsQAvD_BwE
Judges will reward a smartly executed Health and Beauty Influencer Marketing Campaign that has delivered results for a relevant brand based on agreed objectives.
Entry Guidance: The entry may be led by a brand or agency, or in collaboration with a technology and/or creator. The activity could be a one-off or ongoing campaign and there are no physical borders. i.e. the activity can take place in any worldwide region or country.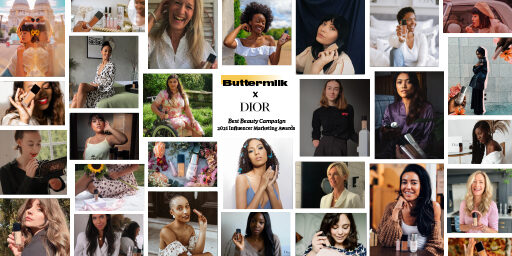 Buttermilk Agency X Dior: Love Your Skin Without Compromise
Download the Entry Kit
Containing essential guidance, entry criteria and judges tips.